Websites of Interest
Here is a collection of interesting websites in support of our mission to enlighten our users on the art of copying, maintaining and organizing your photographs. If you have any web sites of your own that you think would be of interest to the group, please email us at: contactus@shotcopy.com
Please include the website address and a brief description of the site.
Click a title below for more information:
FAQ - Frequently Asked Questions
Here is a collection of frequently asked questions from our customers that will find beneficial in making a decision to purchase ShotCopy. If your question is not answered here please feel free to submit your email question to: contactus@shotcopy.com
Click a FAQ title below for more information:
My husband is looking at your product to make copies of older slides for his thesis presentation. We do not have a digital camera. The MVC-FD92 that you have on the website, is that a model you recommend? Are there other models that you can recommend we look at? Also, what do you look for that would tell you that the camera can in fact, focus with in a inch of the lens??? Thanks for your help,
Delia D.
Click Here for the Answer
Will the shot copy work with a canon G-2? I have some 55mm close up lenses( 1,2,&3) but I assume I'll have to get some 58mm. What do you recommend -the 1, 2 or 3 or perhaps all three. Also what is the price of your equipment. Ed P.
Click Here for the Answer
Today, most digital cameras have macro focus capability
What this means to you is that you can now easily copy your 35mm slides, negatives and prints with this built-in macro focus close-up feature.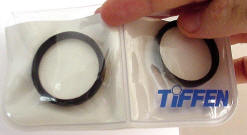 Don't have macro lens - check these out:
Diopter Lens - Click for video

ShotCopy allows you the flexibility to move up as higher resolution cameras become available in the future - saving you time and money from using devices like flatbed scanners and camera lens extenders that become obsolete when you change out your camera.
ShotCopy Tips & Tricks News Archive
What's New & Coming Soon...

o

Did you know you can use ShotCopy with your iPhone 4 series smart phone?
o
ShotCopy is building new videos. "If a picture is worth a thousand words - then video makes it obvious."
o
How do I remove the orange cast when copying color negatives?

Article coming soon

o
Which is better: Copy the negative and use my PC software to convert it to a positive or let the digital camera convert it to a positive?

Article coming soon

o
What type of light source should I use to illuminate my photographs when copying?
o
Slide copying tricks for recovering from a bad exposure.

Article coming soon
How to Create a Photo Album Presentation in PowerPoint 2002 and later...
Did you know you could use PowerPoint 2002 to create a photo album? Here's how.

On the Insert menu, point to Picture, and then click New Photo Album. In the Photo Album dialog box, you can choose to add pictures from your hard disk or a peripheral device, such as a scanner or digital camera. To add a picture from a file or disk, do the following: Under Insert picture from, click File/Disk. Locate the folder or disk that contains the picture you want to add to your photo album, click the picture file, and then click Insert. Repeat Step 2 for as many pictures as you want to add to your photo album. Or to capture them all at once, hold down the CTRL key, click each picture file you need, and then click Insert. Next, specify the look of the album under Album Layout. Then click Create." !
Welcome to ShotCopy.com
This page is dedicated to helping fellow ShotCopy users to get the most out of their ShotCopy experience. To offer unique, and ingenious ways in which ShotCopy can be used for copying opportunities.
We would like to have your input so we can add your insights to this section of the website. It is hoped that this web page will inspire other ShotCopy users to share their ideas and techniques with our unique group of ShotCopy owners.
Best Regards,
Bob Horn
President
ATSSI -"Home of ShotCopy"
Got a question - Ask Us:
contactus@shotcopy.com
How to Deal with Reflections when copying slides or Negatives with ShotCopy...
Having problems with reflections on your slides and negatives. Here's a fast and easy way to solve the problem.
ShotCopy Users Websites of Interest.. .
Here are some websites our ShotCopy customers have found beneficial to share with other ShotCopy Users (Click blue hyperlink text for more information):
Take Beautiful Fall Photos...
Capture the magic of autumn's red and golden leaves and other signs of the changing seasons with this practical article from MSN Photos. It's packed with tips any shutterbug can use!
Digital Still & Movie Cameras merging into one product...
Well, it's finally happening! One camera for both taking digital photographs and movies. This is great news for ShotCopy users! You can now convert your photographic heritage as videos or still shots with even better resolution. Here is an example of one of these new cameras coming on the market:
Canon
Click Logo to see more details on this camera...

Canon VIXIA HF S10 Camcorder gives a huge, easy-to-view color SwivelScreen™ LCD and a massive 8.0 megapixel camera, delivering exceptional Hi-Def quality digital video, digital audio, and digital still images every time you turn it on.