How to use a digital camera or camcorder to copy 35mm slides, negatives and photographs
Here's a sure fire way using
your digital camcorder that really works.
Check out the sample "How to..." menu bars above. You will be amazed how fast and easy it is - with just a click of the shutter - to copy slides, negatives and photographs with your digital camcorder. Eliminating expensive, slow, awkward, time consuming scanners with their marginal results.

The ShotCopy devices holds images in front of your camcorder that can focus to within 1" of the lens for easy copying - one right after the other. It's so simple - with the click of the shutter your picture is digitally captured - ready to load to your PC. Ready to email to family and friends or burning to a CD or DVD.

No fancy lighting required. Just a white reflector to bounce the light on to the image being copied. What could be easier.

When you copy negatives you can reverse the negative to a positive image either in your camcorder or using the software that came with your PC.

To copy photographs is even easier.

Explore the menus above to see for yourself how easy it is to convert your slides, negatives and photographs to digital images using your camcorder and ShotCopy.
Archiving Photos
Negatives, Slides, Prints – to Digital Images
Learn about the past and future of photographic archiving for the 21st century.
To learn more - Click Me
Uploading your photos to the Internet
Why have a photo album that sits in the closet until family shows up for the holidays? Load all your pictures to the Internet to share with family no matter where they live..
To learn more - Click Me
ShotCopy is...
ShotCopy is the device that will allow you to use your digital still or digital camcorder to quickly and easily copy your slides, negatives or prints (up to 4X5) to digital images. Just make sure to test your camera before you buy to verify the camera can focus close enough to copy a 35mm slide..
Think about it...
Flatbed Scanner, Slide/Negative Scanner or ShotCopy and your hi-def camcorder.
The Flatbed Scanner was originally designed to scan text but later expanded, with software, to include photographs. Why would you want to copy a photograph while waiting for flatbed scanner wand move slowly across your image when you can capture the same image with one click of your digital camcorder? It is even saved as a digital photographic (jpg) file; no waiting for a scanner conversion.
The Slide / Negative Scanner – is simply a digital camera hidden in a box with a slot to receive your slides and negatives. Why would you want to buy an expensive, low resolution digital camera in a box that can only do one thing when you can use a multi-function camcorder?
ShotCopy offers you the best of both worlds without the slowness of a flatbed scanner or the expense of a slide/negative scanner. With ShotCopy you are only one click away from capturing your photos to your PC – saving you both time and money.
ShotCopy Design
ShotCopy is designed to allow hi-def camcorders to be mounted on a solid wood base while slides, negatives, and prints are held stationary in front of the camera lens for copying. It's easy, it's fast and it's fun! ShotCopy has a small footprint that takes up very little space on your desktop. ShotCopy brings you a long way from the days of bulky copy stands with their hot flood lights.
Cameras and their functions will morph well into the future

No more film processing and waiting hopefully for positive results. Digital camcorders are here to stay as film takes its place on the shelves of history.

ShotCopy is a universal camcorder copy stand that will not become obsolete as cameras change into the future, like some other dedicated devices being sold today.

Don't let your photographic memories be lost in the shuffle of new technology. Bring them along with ShotCopy and your digital camcorder. Don't leave your precious memories behind to fade away and vanish. Revive them with ShotCopy. Let ShotCopy help you keep your family tree from being lost to history.

Today videotape, CD's and DVD's are giving way to SD Memory Chips or Digital Flash Drives. Storage of information, including pictures and videos, has reached and surpassed a new paradyne in data storage capacity history. And this is especially true for video and still photography.

What does the future hold - only time will tell. Who would ever predict we would be where we are at today during the early days of photography. Based on the past we have little idea what new innovations we will have for the future of photography. Perhaps in the future it will not be called photography.











The way we view and use photographs has changed
Gone are the days when slide projectors and their trays were used to enlarge slide images on a screen in a darkened room. Now we have digital video projectors and devices that allow us to hookup our digital camcorders to our PC's and TV sets. Allowing us to view our home movies and pictures not only at home but share them with the world via the Internet. But wait a minute, how about all your old slides, negatives and photographs. ShotCopy allows you to use your digital camera to easily digitize your photos with a click of a shutter.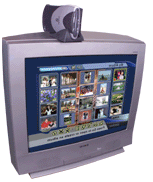 Your Slides, Negatives and Photographs are Changing with Time

Don't let your old photographs fade away to become damaged or lost to history. Let the ingenuity of ShotCopy and your digital camera help you bring your photographs into the 21st century as digital images. Once digitized there is a world beyond your wildest imagination that awaits you.

Converting your photos from film to digital images opens up a whole new world of possibilities...
Once your old photos are digitized you can e-mail them to your friends and associates; save them to your hard drive; burn them to a CD/DVD; display them on your PC, video projector or TV screen.
You will never have to worry again about your pictures fading or turning yellow, or even worse, lost to an accident. By making copies of your digital photo files you can inexpensively copy and distribute your memories to your family, friends or associates for safe keeping. If lost, just ask your friends to make a copy of the photo disk that you sent them. Hello future - here we come!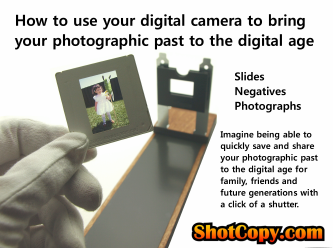 Click Image above to view larger image.
Don't let your family photographic history be lost to the ravages of time
Now you can use your digital still or digital camcorder to bring your memories into the digital age with ShotCopy - the slide negative photograph converter. Now you can easily copy your photographs and share them with everyone through email, CD Photo Albums, Screen Savers, and TV slide shows. No more screens or projectors to drag out! Now you can share you photos by watching TV.

Why ShotCopy is better
You have images to copy - why spend your time fumbling around with clumsy trays and using software which you probably already own. With ShotCopy there are no trays to fool with. ShotCopy gives you direct access to loading your slides, negatives and prints directly in front of your own digital camera lens for copying with a click of the shutter. No preloading of trays for copying required. Then you use the photo editing software that came with your digital camcorder to download and edit the digital photos on your PC.

Most cameras in a box have less camera resolution power than your present digital camera. ShotCopy keeps up with changes in digital camera technology - its just a matter of swapping out the old for the new camera with ShotCopy. Don't get stuck with an obsolete camera in a box technology to copy your precious photographs for future generations.

Think about it? Why would you buy another camera that is built into a box with less resolution power than your present digital camera? When you can use your existing digital camcorder to do the work much faster with a click of the shutter?

ShotCopy is better by far because it is faster and easier to use. Just load and click - insert the next slide - click. In no time you will have all those slides, negatives and prints converted to digital images using your own camera ready to download and edit on your PC to share with family, friends and the Internet world.

Think about it - compare ShotCopy with other devices out there and you will realize ShotCopy's innovative design superiority over other methods of copying. Plus, ShotCopy will not become obsolete as technology moves forward. ShotCopy has been a proven technology since 1997. For all this time ShotCopy has been doing the job of converting slides, negatives, and prints with ease - saving untold hours of your precious time.
Shop and Compare ShotCopy with other converter devices...
You will find ShotCopy is...

¨

Faster - no photo trays to load and unload.

¨

No waiting for scanner wands and file conversions for each image.

¨

No manufacturer proprietary lens attachments.

¨

No more fixed intensity of backlighting for slides and negatives of different exposure densities.
ShotCopy makes common sense when compared to other converter devices...

¨

With ShotCopy you can use existing photo editing software which came with your digital camera. Why learn a new software package just to copy slides, negatives and prints. Even worse, being stuck with dedicated and limited software features that came with a converter device!

¨

No more slow scanner technology designed for scanning documents.

¨

No more cameras in a box with limited and easily obsoleted technology as newer cameras come on the market with higher resolution, speed and improved storage capability.
Make a wise investment in ShotCopy that will last a life time as technology continually moves on into the future.

Prove it to yourself - order a ShotCopy today and see what it can do for you. We know you will love ShotCopy. This is why we offer our 30 day money back guarantee.
Why digitize your photographic images with your digital camera?
What is the advantage of converting slides, negatives and photographs to digital images?
You can share your images via e-mail.

You can place them on social network sites like Facebook to share with family or friends.

You can create CD-ROM or DVD Disk Photo Albums that can be easily copied and shared with your family, friends or business associates.

You can touch up and correct your images at will. Restore your faded and cracked photographs; plus, preserve deteriorating slides and negatives.

By converting your photographs to digital images you can reduce the possibility of loss of priceless treasures by distributing copies of your photographic memories to more that one location. Image if you lost your cherished photographs through fire or thief. What is the value to you for memories that can never be recovered?

You can display your digitized photos on a computer, TV and organize them on your PC for quick recall. You can even print hard-copies of you memories or e-mail them to family and friends. Think of the fun you'll have sharing historical memories that are now digitized for the world to see.

By digitizing your photographs you don't have to dig through old dusty photo albums or even worse; shoe boxes full of unlabeled slides, negatives and prints.

Once you've transferred your images with the help of ShotCopy to your PC you can arrange, copy and touch-up your images any way you like; any time you want; and share them with whomever you wish; quickly and easily.